Foam Factory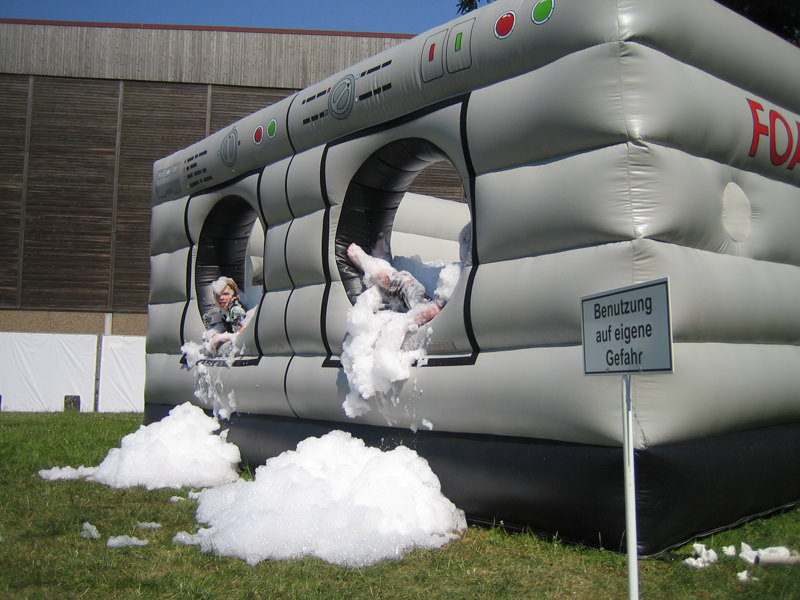 Make a rental inquiry now
Add to memo
Rent foam party jumping castle for all ages
Foam as far as the eye can see. The infla­ta­ble foam fac­to­ry is gre­at fun for all ages. We fill the ph-neu­tral foam into our giant was­her. Due to the air cushion floor, play­ing wit­hin the foam is abso­lute­ly safe.
A small foam gene­ra­tor as well as the con­cen­tra­te are inclu­ded wit­hin this action, only the water sup­ply needs to be pro­vi­ded.
We recom­mend our full ser­vice ver­si­on becau­se in this case an Xtre­me employee, who ensu­res a smooth ope­ra­ti­on of the foam machi­ne and the jum­ping cast­le, is inclu­ded in the packa­ge.
Preis ohne Service ab: € 550,00 zzgl. MwSt. / € 654,50 inkl. MwSt.
Preis mit Service ab: € 745,00 zzgl. MwSt. / € 886,55 inkl. MwSt.
Required space : 5,5 x 6,5m, height 3,5m
Power supply : 2 x 230V / 16A
Supervision : 1 persons
Running time : 6 hours per day
Time for setup/dismantling : approx. 1,5 hours
Additional information : The jumping castle has to be fixed to the ground with heavy nails or be attached to fixed objects (wind protection)! Please make sure that this is possible on-site. A water supply and hose have to be available permanently on-site. No liability for any water damage!
Make a rental inquiry now