House Running / Abseiling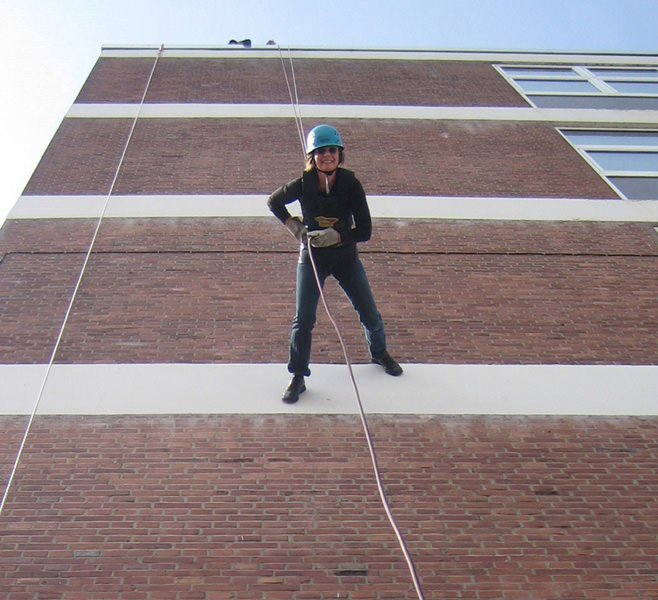 Make a rental inquiry now
Add to memo
Rent Sky & House Walk for your event
Hou­se Run­ning is a tren­dy sport which is also known as sky run­ning or absei­ling. The par­ti­ci­pants are atta­ched to spe­cial har­nes­ses and ver­ti­cal­ly run down a hou­se wall, with the face down­wards. The­re are uni­que bran­ding oppor­tu­nities through lar­ge-sca­le ban­ners as run­ning sur­face at the front.
Origin of this trendy sport
The idea of run­ning down a hou­se wall or steep wall ori­gi­na­ted in New Zea­land many years ago. The insights achie­ved from extre­me absei­ling led to the deve­lop­ment of an own hou­se run­ning sys­tem. Wit­hin the cour­se of this action, the par­ti­ci­pant pas­ses the edge of a roof and approa­ches the steep hou­se wall. Atta­ched to a spe­cial har­ness and secu­red by a dou­ble rope sys­tem, the Hou­se Run­ning begins along­side the hou­se wall towards the ground. The run­ner is able to adjust the speed by eit­her stron­gly or slight­ly pres­sing the rope with the hand. An unf­or­gett­able expe­ri­ence for the par­ti­ci­pant, which is also high­ly rele­vant for adver­ti­sing pur­po­ses. 15 up to 20 per­sons can par­ti­ci­pa­te per hour.
Where are House Running Events possbile?
When the­re is no sui­ta­ble front avail­ab­le the­re are fur­t­her opti­ons: The Sky Run is also pos­si­ble with a mobi­le scaf­fold with a height of approx. 15 meters. We would be glad to help you with the orga­ni­sa­ti­on and scaf­fold sup­ply. The­re is as well a pos­si­bi­li­ty to use lar­ge-sca­le ban­ners for both run­ning and adver­ti­sing area. You do not have a front but an acces­si­ble ledge (e.g. sta­di­um roof) or simi­lar? Xtre­me absei­ling in dizzy heights trans­forms each visi­tor of your event into an action hero.
Adrenaline rush with abseiling
Fasci­na­te your visi­tors in dizzy heights. The hig­hest pos­si­ble thrill is achie­ved when swit­ching into the hori­zon­tal pos­tu­re at the roof edge, from whe­re you gaze down into the dep­ths befo­re car­feul­ly scan­ning and run­ning down, respec­tively. Start an enqui­ry now and rent the Hou­se Run­ning Event for your event.
Expe­ri­ence the Hou­se Run­ning thrill but don't lose heart! After the first step it all works by its­elf. Rock or Hou­se Run­ning is a top event attrac­tion. This leisu­re activi­ty is a cate­go­ry wit­hin the adven­ture and tren­dy sport area, just like bun­gee jum­ping, raf­ting or can­yo­ning. Like bun­gee jum­ping, sky cage, air power or other action sports, we put safe­ty at hig­hest prio­ri­ty. But this does not mean losing the fun of it! Par­ti­ci­pants are secu­red red­un­dant­ly at all times when run­ning down a hou­se wall.
Preis mit Service ab: € 2.900,00 zzgl. MwSt. / € 3.451,00 inkl. MwSt.
Required space : at the bottom from approx. 5 x 5m + registration tent 3 x 3m
Supervision : 4 persons
Running time : 6 hours per day
Time for setup/dismantling : 4 hours
Recommended minimum age : 16 years
Minimum weight : 40kg
Maximum weight : 95kg
TÜV certificate : Das House Running System ist TÜV geprüft!
Additional information : Please ask for the house running data sheet. Possibly a water connection including hose up to the roof must be present on site (when using water ballast tanks)
Optionally : Mobile sky walk tower on a scaffold basis. Abseiling from building ledges
Module branding 1: Large-scale banner or flags at the front as running surface or next to it
Module branding 2 : Banner on the barriers
Make a rental inquiry now