Bingo Box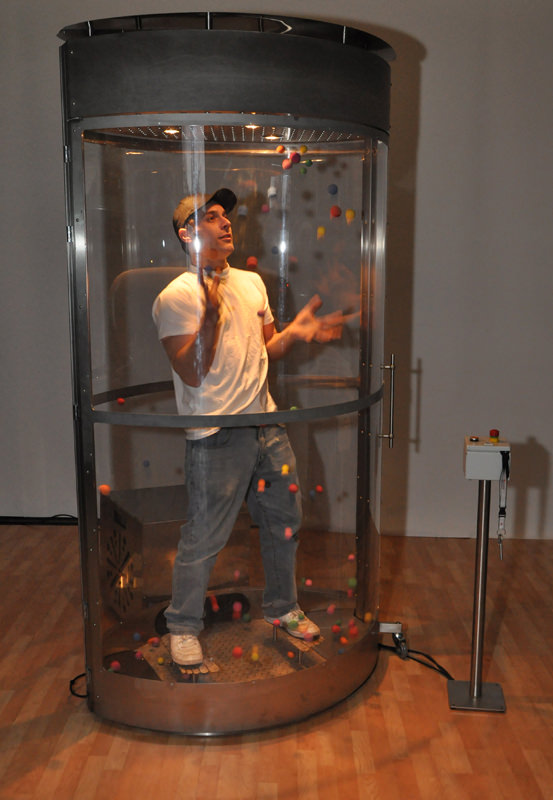 Make a rental inquiry now
Add to memo
Catch the wild balls
Our first-class whirl­wind box with an exclu­si­ve stain­less steel design. The par­ti­ci­pants enter the futu­ris­tic, oval cap­su­le and try to catch the jum­ping colou­red balls. The pri­zes can be deter­mi­ned accord­ing to the amount of balls caught or accord­ing to pre­de­fi­ned colours. The participant's time is adjus­ta­ble from 10 to 60 seconds.
Orga­ni­se litt­le givea­ways or other pri­zes becau­se this enhan­ces the moti­va­ti­on to par­ti­ci­pa­te and also increa­ses the sen­se of achie­ve­ment. Do you want your actors to catch indi­vi­du­al vou­chers, tickets or lotte­ry tickets ins­te­ad of balls? Plea­se ask for our CASH BOX.
Whe­ther BINGO BOX or CASH BOX – both pro­mo­ti­ons are high­ly appe­aling and have a uni­que design.
Here are some bran­ding examp­les of the cash box.
Preis ohne Service ab: € 350,00 zzgl. MwSt. / € 416,50 inkl. MwSt.
Preis mit Service ab: € 545,00 zzgl. MwSt. / € 648,55 inkl. MwSt.
Required space : 1,3 x 1,5m, height 2,5m
Power supply : 230V / 16A
Supervision : 1 person
Running time : 6 hours per day
Time for setup/dismantling : approx. 0,5 hours
Additional information : Only possible by ground-level delivery or a suitable goods elevator. One strong person is required for setup and dismantling, optionally you can book a second Xtreme employee
Optionally : Highscore on large screen, moderation & moderation system
Module branding 1: Sticker (easily removable) on the frame of the bingo box (not on the glass)
Module branding 2 : The transparent rear window can be changed for a full-surface printed plate (inside and outside printable)
Make a rental inquiry now