Flipbook Greenbox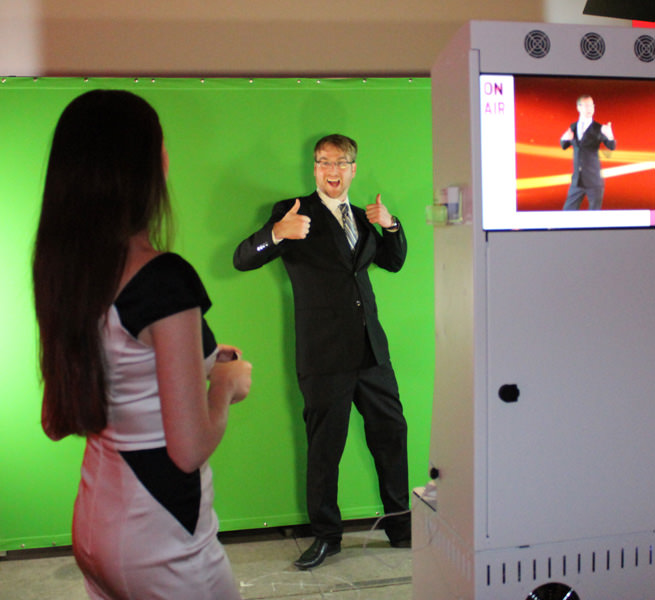 Make a rental inquiry now
Add to memo
Your per­so­nal flip­book to go — ready in just 90 seconds!
A clas­sic is back — here it comes, the digi­ta­li­zed flip­book as a high-quality and per­so­nal givea­way for trade shows and events: Make your own short film!
After the count­down, the par­ti­ci­pants are stan­ding in the spot­light for seven seconds and do their best in front of the green screen. The vir­tual back­ground is crea­ted digi­tally on a com­pu­ter. During a short pro­ces­sing time the sequence of images is com­pi­led, prin­ted, cut and stap­led. Two iden­ti­cal flip­books are crea­ted at a time. The audi­ence is obser­ving the recor­ding and the deve­lop­ment of the flip­book with exci­te­ment, which leads to new par­ti­ci­pants time and again.
Cover and back­ground are tailo­red to your needs and can be desi­gned with logos, mot­tos and tickers. High-quality SLR came­ras and pro­fes­sio­nal photo prin­ters, which pro­duce high-gloss and water resis­tant prints, are used.
Atten­tion! All mate­rial costs for up to 80 flip­books per hour (= 560 prints per day) are inclu­ded in the price (other suppliers charge extra costs). And: We print on pro­fes­sio­nal photo prin­ters with high-gloss and water­proof print-outs (other suppliers print on colour laser prin­ters with a con­side­r­a­bly lower quality).
Required space : from 2,5 x 3m, height 2,5m / outdoor: 3 x 4m, height 3m
Power supply : 230V / 16A
Supervision : 2 persons
Running time : 7 hours per day
Time for setup/dismantling : approx. 1 hour
Additional information : Up to 80 flipbooks (40 x 2 pieces) are possible per hour. Please indicate whether the event will take place outdoors. In this case, we bring along a suitable speed shelter
Optionally : Additional technique set including 1 additional Xtreme employee for up to 160 flipbooks per hour
Module branding 1: Cover design with logo & motto (without extra charge)
Module branding 2 : Background & ticker on the photo series (without extra charge)
Module branding 3 : Mobile flagpoles as beach flags, height: 2m to 4m or hoistable flags, rectangular, max. width: 1m x height: 3m
Make a rental inquiry now