High Striker 'Nostalgia'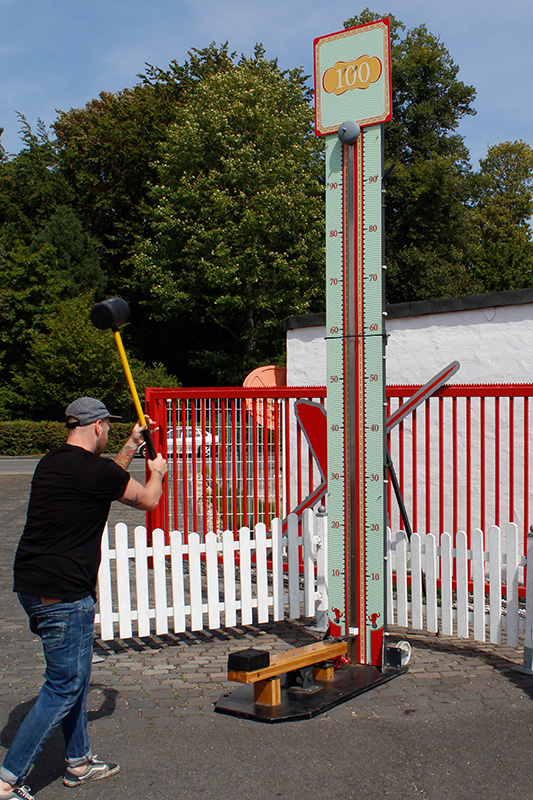 Rent the High Striker!
The most well-known competition of the fun fair: Who makes the bell ring? Power in conjunction with the right technology is crucial, because the heavy plastic hammer has to hit a certain point of the rocker with momentum, so that the puck rushes upwards on the slide rail. Our 'Hau den Lukas' is adjustable, so we can adjust the difficulty to your audience before the event starts.
The Xtreme High Striker is also available as an Oktoberfest, wild west and football version. Also, we have already implemented many individual designs for our customers.
Technical and organizational facts
Price without service from: € 300,00 zzgl. MwSt. / € 357,00 inkl. 19% MwSt.
Price with service from: € 495,00 zzgl. MwSt. / € 589,05 inkl. 19% MwSt.
Required space: 2 x 3m, height 4,5m
Power supply: optionally 230V / 16A (when evening event)
Supervision: 1 person
Running time: 6 hours per day
Time for setup/dismantling: 0,5 hours
Additional information: Plain, horizontal surface. Only possible by ground-level delivery or a goods elevator. One strong person is required (short-term) for setup and dismantling, optionally you can book a second Xtreme employee. Attention, no liability for any flooring damage
Optionally: Winner's rostrum, Highscore on large screen
Module branding 1: Possible on the decorative fences: banners or signs
Module branding 2: Full branding of scale & head sign