Vertical Soccer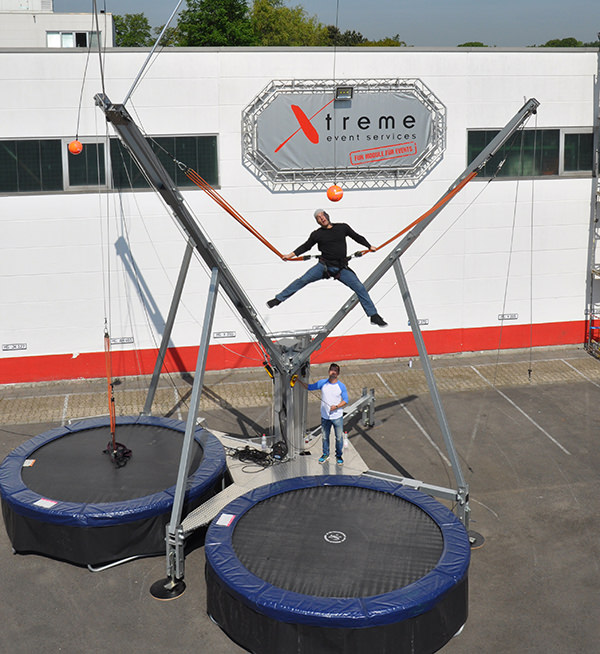 Make a rental inquiry now
Add to memo
Soccer action on a bungee trampoline
Power­ful diving hea­ders and ele­gant over­head kicks in heights of six to eight meters. Via a tram­po­li­ne and cords on the waist strap the jum­pers cata­pult them­sel­ves towards the ball by using their full body. If the requi­red height is reached, the ball gets kicked. While almost ever­yo­ne will mana­ge a hea­der, more cou­ra­ge­ous and ath­letic peop­le per­form spec­ta­cu­lar over­head kicks in dizzy heights.
Ver­ti­cal soc­cer offers a uni­que expe­ri­ence for your guests. The spec­ta­tors will cheer and are exci­ted. Also com­pe­ti­ti­ons are pos­si­ble: Who has the first touch? Who per­forms the most over­head kicks?
Ver­ti­cal Soc­cer is the advan­ce­ment of the popu­lar bun­gee tram­po­li­ne, pos­si­ble as dou­ble or qua­drup­le sys­tem. The clas­sic event also offers gre­at bran­ding oppor­tu­nities on the can­ti­le­vers and the tram­po­li­nes.
Get this brand new soc­cer attrac­tion for your event and book the ver­ti­cal soc­cer.
Plea­se note: All of Xtreme's modu­les and play­ing devices with a height of more than five meters have a cur­rent TÜV cer­ti­fi­ca­te and a con­struc­tion led­ger accord­ing to EN 13814 (DIN 4112). Safe­ty and qua­li­ty have top prio­ri­ty for Xtre­me. Unfor­tu­n­a­te­ly, this is not always the case with our com­pe­ti­tors (plea­se ask for TÜV and con­struc­tion led­ger). A con­struc­tion led­ger with model appro­val is obli­ga­to­ry for mobi­le con­struc­tions and also for infla­ta­ble play­ing devices with clim­bing or play­ing are­as of more than five meters height.
Preis mit Service ab: € 1.390,00 zzgl. MwSt. / € 1.654,10 inkl. MwSt.
Required space : Double: 10 x 7m (set-up 20 x 10m), height 12m. Quadruple: 10 x 10m (set-up 20 x 20m), height 12m
Power supply : 2x 230V / 16A
Supervision : 2 / 4 persons
Running time : 6 hours per day
Time for setup/dismantling : 2 / 3 hours
Minimum weight : 20kg
Maximum weight : 95kg
TÜV certificate : Aktuelles TÜV Gutachten & Baubuch vorhanden!
Additional information : Plain, horizontal & solid ground, free of trees & signs etc. Consider trailer access
Module branding 1: 3 / 4 sails on the cantilevers (triangular shape), flag fabric with print through or banners printed on both sides. 2 sizes possible: width: 0,6m x height: 3,2m or width: 1,2m x height: 3,2m
Module branding 2 : 2 / 4 trampoline banners each max. width: 9m x height: 0,7m
Module branding 3 : 2 / 4 sun protection banners (trapezium), 1m x 1m
Make a rental inquiry now