High Striker 'Soccer'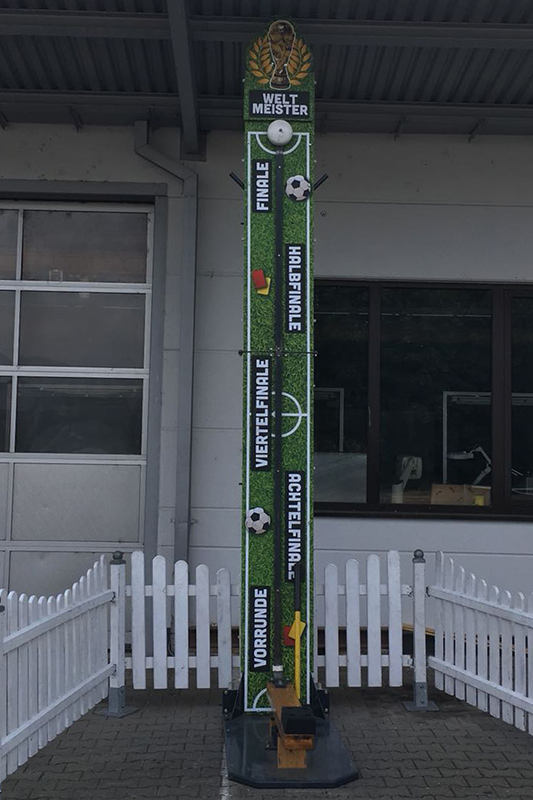 Win the trophy! The exclusive and brand new soccer high striker from Xtreme Events!
A test of strength with the high striker in world championship design: grab the big hard rubber hammer with both hands, reach back and hit the rocker at the right spot. The participant's interplay of technique and power decides how far the puck will move up the sliding rail. How strong are you? The one who rings the bell is world champion!
The traditional high striker is an integral part of every public festival. Now with a soccer design, the module is well suited for all soccer related events. Decorative white fences serve as safety barriers. The full service version is supervised by a trained Xtreme employee. We would also love to conduct a competition.
Tip: Book our soccer event with Xtreme employees in referee outfits.
Technical and organizational facts
Price without service from: € 300,00 zzgl. MwSt. / € 357,00 inkl. 19% MwSt.
Price with service from: € 495,00 zzgl. MwSt. / € 589,05 inkl. 19% MwSt.
Required space: 2 x 3m, height 4,5m
Power supply: possibly 230V / 16A (when evening event)
Supervision: 1 person
Running time: 6 hours per day
Time for setup/dismantling: approx. 0,5 hours
Additional information: Plain, horizontal surface. Only possible by ground-level delivery or a goods elevator. One strong person is required (short-term) for setup and dismantling, optionally you can book a second Xtreme employee. Attention, no liability for any flooring damage.
Optionally: Moderation & moderation system
Module branding 1: At the fences: banners or signs
Module branding 2: Complete branding scale & head sign