Buzzer Module / Quiz Show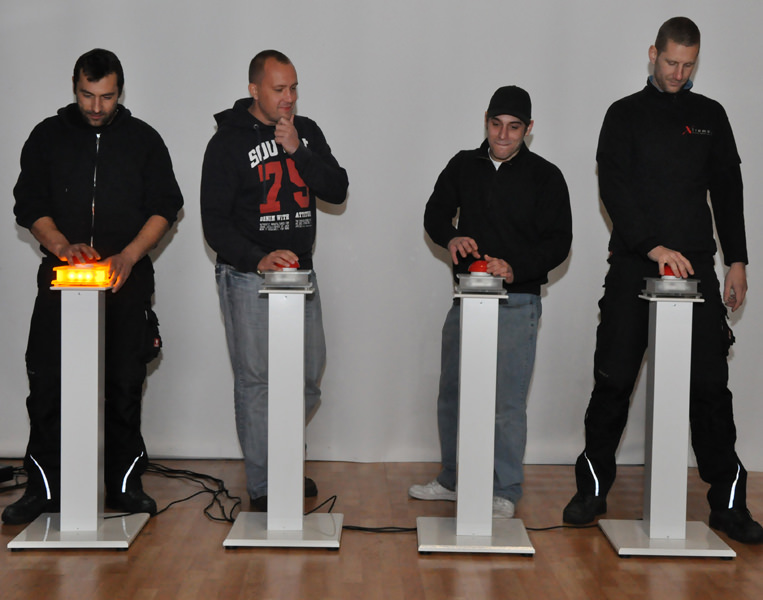 Make a rental inquiry now
Add to memo
Book the Buzzer Quiz Show
Like in a real TV show up to four par­ti­ci­pants push the buz­zer here. The quiz­mas­ter asks a ques­ti­on and the par­ti­ci­pants push the but­ton. Along with a typi­cal buz­zer sound the light of the fas­test can­di­da­te flas­hes. The other play­ers' buz­zers are blo­cked at the same time. Only the quiz­mas­ter can unblock the buz­zer after the ans­wer of the can­di­da­te.
Whe­ther tra­de fair, event, per­son­nel trai­ning, TV pro­duc­tion or sports event, our buz­zer sys­tem meets all requi­re­ments.
Rent the pure tech­ni­que oft he BUZZER MODULE or book the QUIZ SHOW inclu­ding one ope­ra­tor. Also an upgrade is pos­si­ble for mode­ra­ti­on and a mode­ra­ti­on sys­tem.
Preis ohne Service ab: € 300,00 zzgl. MwSt. / € 357,00 inkl. MwSt.
Preis mit Service ab: € 495,00 zzgl. MwSt. / € 589,05 inkl. MwSt.
Required space : approx. 4 x 1m
Power supply : 230V / 16A
Supervision : 1 person
Running time : 6 hours per day
Time for setup/dismantling : approx. 0,5 hours
Additional information : Only indoor or roofed usage. Organise little giveaways or other prizes because this enhances the motivation to participate and also increases the sense of achievement
Optionally : Quiz-Show with moderation & moderation system starts at € 840,--
Module branding 1: Sticker (easily removable) on the buzzer columns
Make a rental inquiry now