Air Cones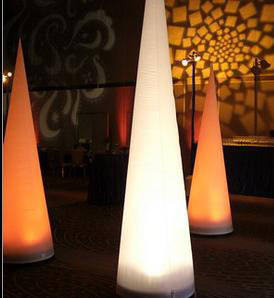 Rent air cones
Rent air tubes — an eye-catcher action for your event! The decorative lighting cones create an impressive atmosphere and are suited for indoor and roofed outdoor use. Within the socket, a small, low-noise permanent fan is integrated which keeps the cone cover upright.
We currently offer AIR CONES with the following colours: 2x white, 2x red, 2x yellow, 2x green, 2x light blue, 2x dark blue and 2x orange. Combine your desired colours and equip your location or entrance with a special look. The air cones are superb eye-catchers and provide an indirect lighting at the same time.
Your colour is not included? We produce air cones, air horns and air domes in your desired colours, also with imprint.
Technical and organizational facts
Price without service from: € 60,00 zzgl. MwSt. / € 71,40 inkl. 19% MwSt.
Required space: Diameter 0,8m, height 3m
Power supply: je 230V / 16A
Supervision: --
Running time: 6 hours per day
Time for setup/dismantling: 5 minutes each
Additional information: No outdoor use in case of rain or storm
Optionally: This module can also be shipped via a forwarding agent