Survival Course Maxi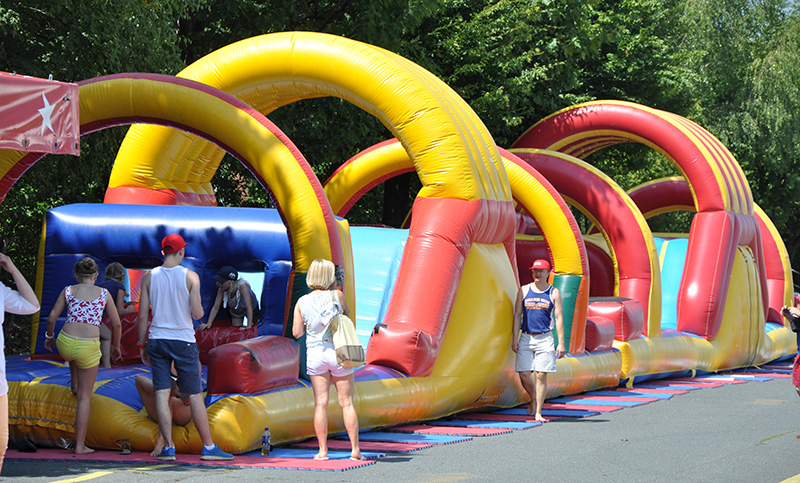 Make a rental inquiry now
Add to memo
Inflata­ble XXL obst­a­cle course
Rent giant sur­vi­val course for indoor and out­door events
Two dif­fe­rent sur­vi­val cour­ses in a row lead to lots of action and a big chal­lenge on more than 30 meters!
A con­test for adven­tu­rers of all ages. After the star­ting signal the inflata­ble XXL obst­a­cle course has to be accom­plis­hed. The sur­vi­vors have to climb walls, crawl through tun­nels and obst­a­cles and slide from ridges. All this hap­pens on a soft air cushion.
The SURVIVAL COURSE MAXI is a superb and funny com­pe­ti­tion for action-packed events. You can't miss the giant air cushion course and this eye-catcher will be the heart of your event.
In the full ser­vice ver­sion, our moti­va­ted event crew leads through the con­test and pro­vi­des tips and sup­port to the par­ti­ci­pants. Sin­gle as well as team games are possible.
Required space : 5 x 32m, height 6m
Power supply : 2 x 230V / 16A
Supervision : 3 persons
Running time : 7 hours per day
Time for setup/dismantling : approx. 1 hour
Additional information : Two more strong persons are required for setup. The inflatable course has to be fixed to the ground with heavy nails or be attached to fixed objects (wind protection)! Please make sure that this is possible on-site. A soft ground (grass) is of advantage
Module branding 1: Mobile flagpoles as beach flags, height: 2m to 4m or hoistable flags, rectangular, max. width: 1m x height: 3m
Make a rental inquiry now