Water Roll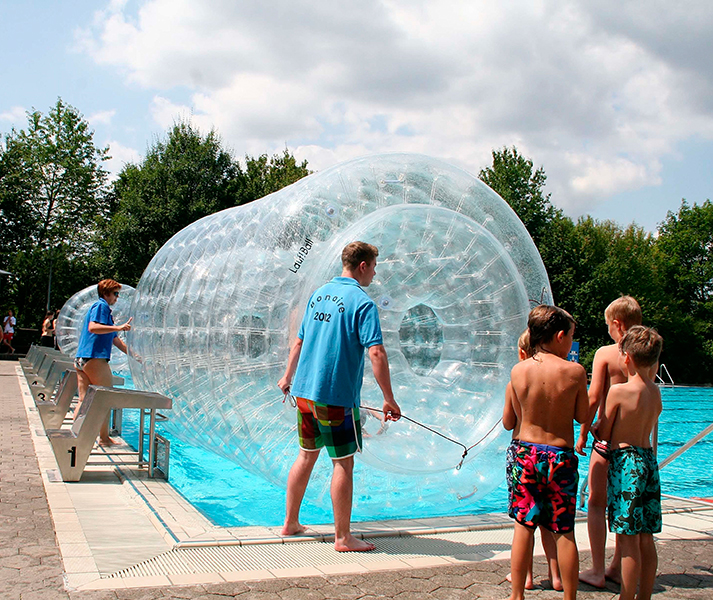 Rent the Zorbing Rolls
The Water Roll delivers action and fun to your swimming pool.
One or more participants step into the 3m PVC roll and start the hamster wheel run.
They rotate the barrel by running, but through very little friction it only moves forward very slowly.
Due to the closed air chamber system, the Water Roll has only to be inflated once before the fun begins.
Rent the Water Roll with a responsible Xtreme supervisor who will keep the device in sight and guarantees safety during the action.
Next to the run in our pool the Water Roll can also be used in a swimming pool or standing water.
For this we will need a dock for an easy entry and exit plus a lifeguard has to be on site.
The Water Roll has a length of 3m, the external diameter is 2,5m, on the inside the barrel has a diameter of 1,8m. For the XXL action in your swimming pool we have 4 Water Rolls in total.
Technical and organizational facts
Price without service from: € 250,00 zzgl. MwSt. / € 290,00 inkl. 16% MwSt. / € 297,50 inkl. 19% MwSt.
Price with service from: € 445,00 zzgl. MwSt. / € 516,20 inkl. 16% MwSt. / € 529,55 inkl. 19% MwSt.
Required space: Pool min. 5 x 5m (Roll 3m x 2.5m)
Power supply: 230V / 16A
Module Weight:

80

KG

Supervision: 1 person
Running time: 6 hours per day
Time for setup/dismantling: 1 hour
Additional information: The Water Roll is only for Water-Action. One strong person is required for setup and dismantling.
Optionally: Inflatable Pool diameter 6 or 7m.