Climbing Wall House Front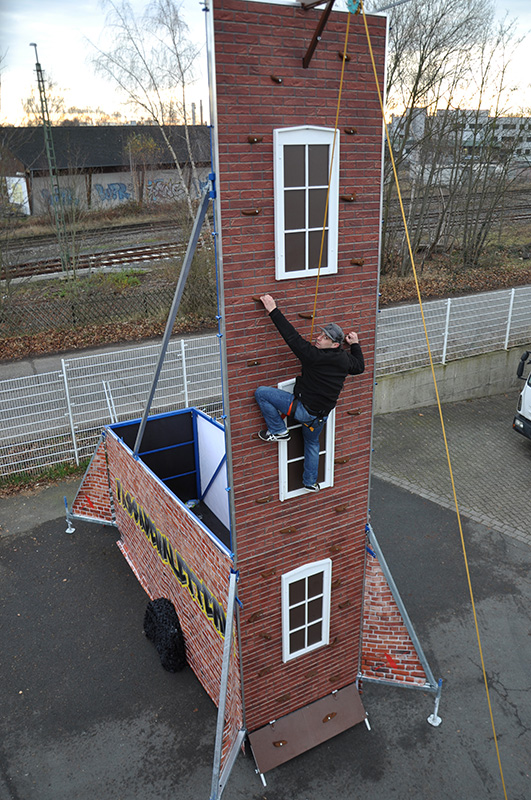 Make a rental inquiry now
Add to memo
The climbable house front – Hire it now for your event.
With pro­fes­sio­nal clim­bing equip­ment and top-rope safe­ty you can climb up an eight meters high hou­se. A qua­li­fied tea­mer takes care of the par­ti­ci­pants. The clim­bing wall is sui­ta­ble for all ages. Pro­fes­sio­nal clim­bing grips in the same color as the hou­se front make the ascent pos­si­ble. 15 par­ti­ci­pants per hour are pos­si­ble.
All clim­bing actions over five meters height are che­cked for TÜV and have a con­struc­tion book, inclu­ding of cour­se the new hou­se front clim­bing. Xtre­me event offers Europe's lar­gest selec­tion of mobi­le clim­bing attrac­tions — Enga­ge the pro­fes­sio­nals of Xtre­me.
Preis mit Service ab: € 1.190,00 zzgl. MwSt. / € 1.416,10 inkl. MwSt.
Required space : 3,5 x 10m, height 8,5m
Supervision : 1 - 2 persons
Running time : 6 hours per day
Time for setup/dismantling : 1 hour
Maximum weight : 90kg
TÜV certificate : Tüv-Zertifikat & Baubuch vorhanden!
Additional information : Plain, horizontal and solid surface, free of trees, branches and signs etc. Please consider trailer access. The trailer's base construction serves stabilization purposes – the climbing wall is not separated from the trailer. transport trailer measurements: wide: 2.2 m x height 3m.
Module branding 1: Banners on both trailer sides
Module branding 2 : Triangle Banners on all corners, printed on both sides
Make a rental inquiry now