Crate climbing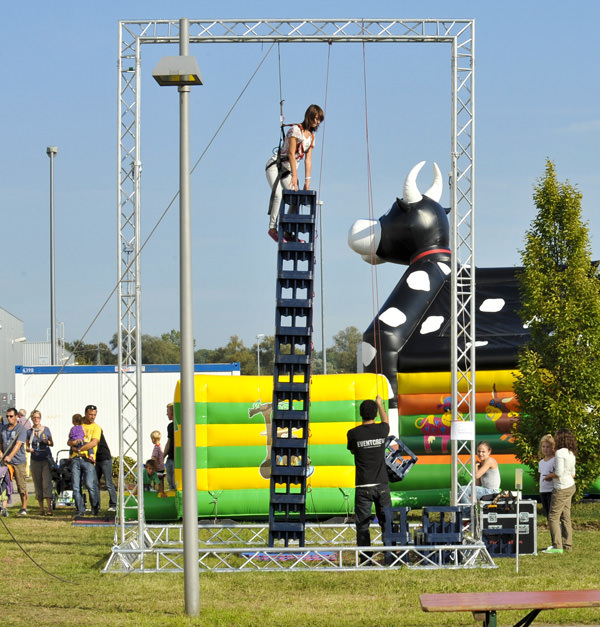 Make a rental inquiry now
Add to memo
Rent crate climbing for your event!
Our crate climbing module is suited for children and adults
The par­ti­ci­pants have to make their way up on the spe­ci­al­ly con­struc­ted tower of cra­tes. The sen­se of balan­ce is tested becau­se the clim­bers need to mana­ge cra­te after cra­te. After each cra­te, the tower gets more unste­ady until the par­ti­ci­pant final­ly loses balan­ce, the tower tumb­les down and the clim­ber hangs in the safe­ty har­ness.
As a mat­ter of cour­se, the par­ti­ci­pants are inst­ruc­ted by our respon­si­ble super­vi­sors and are pro­vi­ded with pro­fes­sio­nal clim­bing equip­ment. The cra­tes them­sel­ves are fixed to each other and can­not drop out of the field.
The audi­ence is exci­ted and obser­ves the climb. Sui­ta­ble for child­ren and adults.
Here you can find some impres­si­ons about the bran­ding pos­si­bi­li­ty.
Preis mit Service ab: € 690,00 zzgl. MwSt. / € 821,10 inkl. MwSt.
Required space : 5 x 6m, height 5,5m
Supervision : 2 persons
Running time : 6 hours per day
Time for setup/dismantling : approx. 1 hour
Maximum weight : 90kg
Additional information : In order to set up the crate climbing module, a plain, horizontal and solid surface is necessary
Module branding 1: 2 triangle banners, printed on both sides, at the top corners of the traverse
Module branding 2 : Individually designed or own crates
Module branding 3 : Smaller flags on the guy ropes
Make a rental inquiry now