Fire Brigade Jumping Castle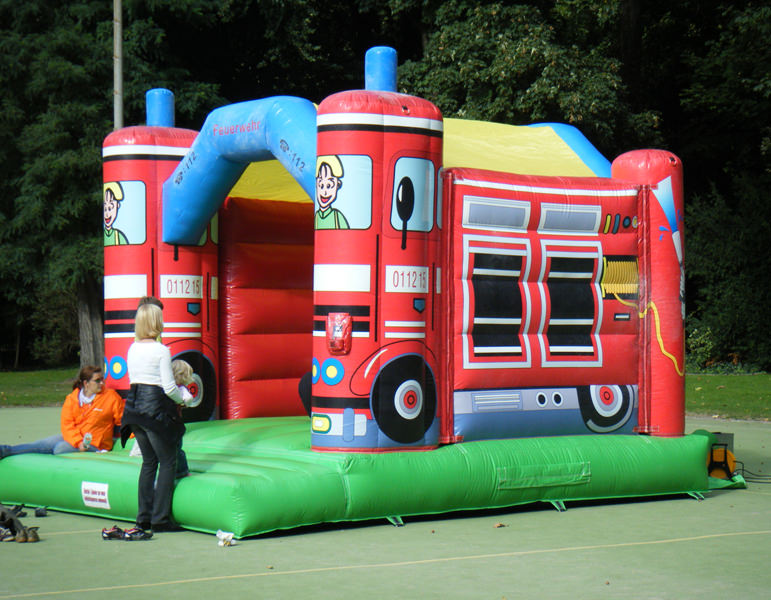 Rent a fire brigade jumping castle for events
Our inflatable fire truck is a must-have for every fire brigade festival. As a very traditional and popular module, the inflatable bouncy castle is a top attraction for any event. Book it now and your little firefighters will be overwhelmed.
Not only children will get their money's worth with the FIRE BRIGADE JUMPING CASTLE – it is also an eye-catcher and a crowd-puller. A roof cover protects the inside from rain and sun.
A supervising person is always required for inflatable modules. You can directly book one of our responsible Xtreme employees who supervises the children. You can also provide a supervisor on your own.
Technical and organizational facts
Price without service from: € 200,00 zzgl. MwSt. / € 238,00 inkl. 19% MwSt.
Price with service from: € 395,00 zzgl. MwSt. / € 470,05 inkl. 19% MwSt.
Required space: 4,5 x 5,5m, height 4m
Power supply: 230V / 16A
Supervision: 1 person
Running time: 6 hours per day
Time for setup/dismantling: approx. 0,5 hours
Additional information: One strong person is required for setup and dismantling, optionally you can book a second Xtreme employee. The jumping castle has to be fixed to the ground with heavy nails or fixed to existing objects (wind protection)!