Washing Machine Jumping Castle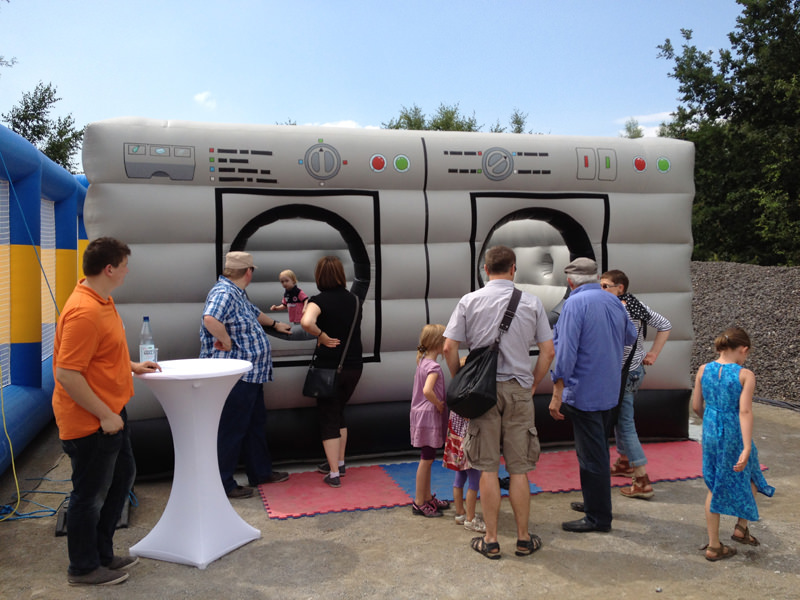 Make a rental inquiry now
Add to memo
Jump action within a giant washing machine
A washer jumping castle for children, also suited for foam parties
Book the Xtre­me giant washing machi­ne now and your litt­le event visi­tors will be over­whel­med. After ent­e­ring via the bull's eye, the jump action begins. The jum­ping cast­le is an eye-cat­cher and a crowd-pul­ler.
A super­vi­sing per­son is always requi­red for infla­ta­ble modu­les. You can direct­ly book one of our respon­si­ble Xtre­me employees who super­vi­ses the child­ren. You can also pro­vi­de a super­vi­sor on your own.
Apart from our boun­cy cast­les, we also offer tram­po­li­nes for fur­t­her jump action. Have a look at our foam par­ty jum­ping cast­les if you would like to rent our was­her jum­ping cast­le for a foam par­ty.
Preis ohne Service ab: € 200,00 zzgl. MwSt. / € 238,00 inkl. MwSt.
Preis mit Service ab: € 395,00 zzgl. MwSt. / € 470,05 inkl. MwSt.
Required space : 5,5 x 5,5m, height 3m
Power supply : 230V / 16A
Supervision : 1 person
Running time : 6 hours per day
Time for setup/dismantling : approx. 0,5 hours
Additional information : One strong person is required for setup and dismantling, optionally you can book a second Xtreme employee. The jumping castle has to be fixed to the ground with ground nails or be attached to existing, fixed objects (wind protection)!
Make a rental inquiry now