Rodeo Rocket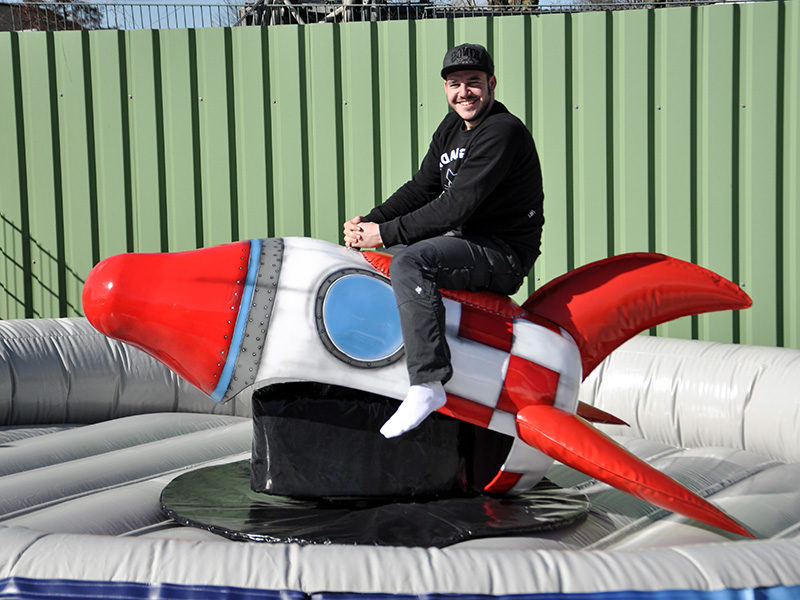 Rocking Rocket: galactic fun for young and old
The rodeo rocket transports events into new spheres.
A normal Bullriding is too boring for you? Then Xtreme Events is the right address for you! We are your specialist for unusual rodeo systems. A very special variant is the rodeo rocket, with which your event takes off into new fun spheres.
The little astronauts hop on the sleek space glider and the wild ride on the rocket starts. Even adults (up to 120 kg) can dare the bumpy space flight and try to stay on the rodeo rocket as long as possible. If a participant slips off the spaceship, no free fall awaits him into weightlessness. Rather, he gently lands in the thematically designed air cushion, which convinces with its imaginative space design.
The rocket rodeo is perfect for any children's event or aerospace event. It not only brings fun and action to your event, but is also a great eye-catcher. The rodeo rocket is operated by one of our trained teamers, who also prepares the participants for their "flight" on the rocking rocket.
Technical and organizational facts
Price with service: Price on demand
Required space: Diameter 7m, height 3m (diameter air cushion 6m + safty distance)
Power supply: 2x 230V / 16A
Module Weight: 300 KG
Supervision: 1 person
Running time: 6 hours per day
Recommended minimum age: 7 years
Maximum weight: 120kg
Optionally: Moderation & moderation system, winner's rostrum, high score on large screen
Module branding 1: Banner (with velcro) at the air cushion, width 18,8m x height 0,455m. Air cushion colour blue-white oder black-grey