Milk Bowl Throwing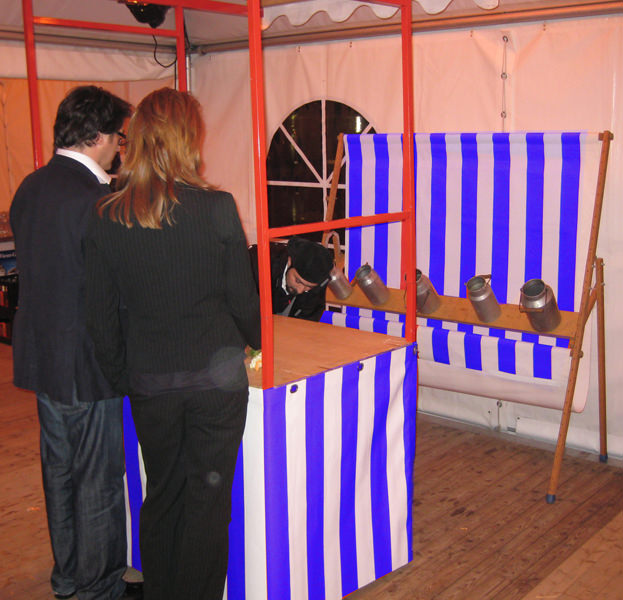 Throwing game for rent
Funfair or Oktoberfest throwing games are an integral part of worldwide city festivals. During milk bowl throwing, the participants try to throw little balls into the openings of original farm milk bowls. This challenge requires aiming skills and accuracy.
The venue is a decorative market hall which is blue and white or red and white according to the particular event theme. Milk bowl throwing is also available within a nostalgia hall. In the full service version the event is supervised by a trained Xtreme employee.
Tip: Book our Oktoberfest events with our Xtreme employees in traditional Bavarian costumes. You can also opt for little giveaways which enhance the participants' sense of achievement and make the event even more authentic.
Xtreme offers further activities that are a must-have for any Bavarian festival. Put together your personal Oktoberfest Olympics.
Technical and organizational facts
Price without service from: € 200,00 zzgl. MwSt. / € 238,00 inkl. 19% MwSt.
Price with service from: € 395,00 zzgl. MwSt. / € 470,05 inkl. 19% MwSt.
Required space: 2 x 3m, height 2,4m
Supervision: 1 person
Running time: 6 hours per day
Time for setup/dismantling: approx. 0,5 hours
Additional information: A plain, horizontal area is required. Tabletop dimensions in the booth: width: 1,25m x depth: 0,8m
Module branding 1: Signs on the booth frame
Module branding 2: Individual booth cover (Colours & logos), border around 3 sides width: 2,79m x height: 0,85m and roof cover width: 1,31m x depth: 2,29m