Wooden Shoe Race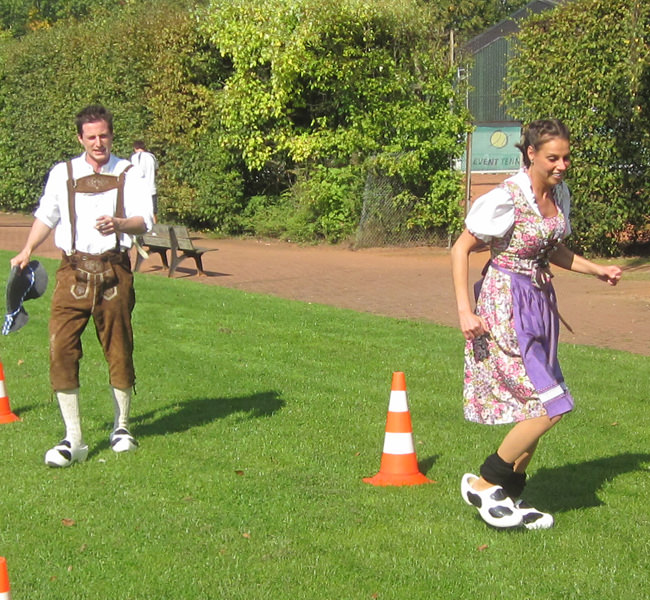 Make a rental inquiry now
Add to memo
Rent this funny Team Game
With wooden slippers and in slalom around the milk cans – who is the fastest in this slightly different obstacle run? The WOODEN SHOE RACE is an exciting way to compete. Participants and spectators will have fun.
Unfortunately, you won't see the classic wooden shoe too often today. Until the 1950's the wooden shoes were very popular in northwestern Europe. In the north, they are often called Sweden slippers or clogs, whereas in the west they are called "Klumpen" or clogs. In southern regions, however, the wooden shoes are commonly referred to as Sabots or Zogelli.
In the full service version the wooden shoe race is supervised by a trained Xtreme employee. We would also love to conduct a competition.
Xtreme offers further funny activities – put together your personal Oktoberfest Olympics. Tip: Book our Oktoberfest events with our Xtreme employees in traditional Bavarian costumes.
Preis ohne Service ab: € 100,00 zzgl. MwSt. / € 119,00 inkl. MwSt.
Preis mit Service ab: € 295,00 zzgl. MwSt. / € 351,05 inkl. MwSt.
Required space : from 3 x 10m
Supervision : 1 person
Running time : 6 hours per day
Time for setup/dismantling : approx. 0,5 hours
Optionally : Moderator & moderation system for the Bavarian Olympics, winner's rostrum, high score on large screen
Make a rental inquiry now