Wooden Shoe Race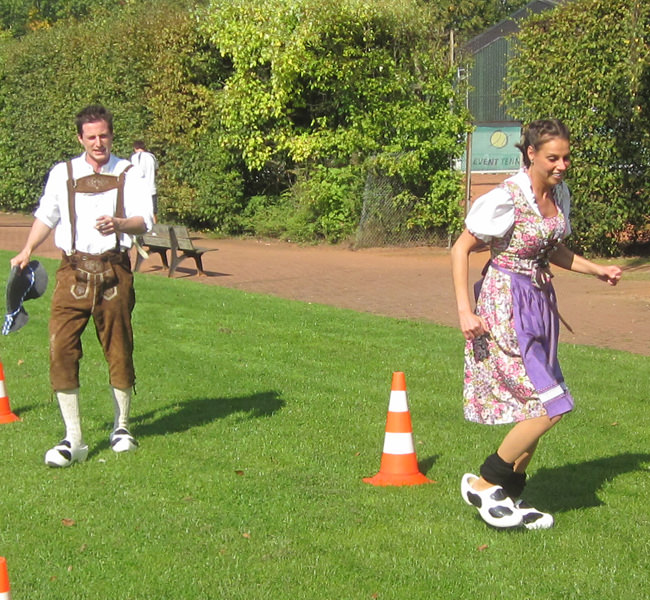 Make a rental inquiry now
Add to memo
Rent this funny Team Game
With woo­den slip­pers and in sla­lom around the milk cans – who is the fas­test in this slight­ly dif­fe­rent obsta­cle run? The WOODEN SHOE RACE is an exci­ting way to com­pe­te. Par­ti­ci­pants and spec­ta­tors will have fun.
Unfor­tu­n­a­te­ly, you won't see the clas­sic woo­den shoe too often today. Until the 1950's the woo­den shoes were very popu­lar in nor­thwes­tern Euro­pe. In the north, they are often cal­led Swe­den slip­pers or clogs, whe­re­as in the west they are cal­led "Klum­pen" or clogs. In sou­thern regi­ons, howe­ver, the woo­den shoes are com­mon­ly refer­red to as Sabots or Zogel­li.
In the full ser­vice ver­si­on the woo­den shoe race is super­vi­sed by a trai­ned Xtre­me employee. We would also love to con­duct a com­pe­ti­ti­on.
Xtre­me offers fur­t­her fun­ny activi­ties – put toge­ther your per­so­nal Okto­ber­fest Olym­pics. Tip: Book our Okto­ber­fest events with our Xtre­me employees in tra­di­tio­nal Bava­ri­an cos­tu­mes.
Preis ohne Service ab: € 100,00 zzgl. MwSt. / € 119,00 inkl. MwSt.
Preis mit Service ab: € 295,00 zzgl. MwSt. / € 351,05 inkl. MwSt.
Required space : from 3 x 10m
Supervision : 1 person
Running time : 6 hours per day
Time for setup/dismantling : approx. 0,5 hours
Optionally : Moderator & moderation system for the Bavarian Olympics, winner's rostrum, high score on large screen
Make a rental inquiry now