Pirate Ship Jumping Castle Maxi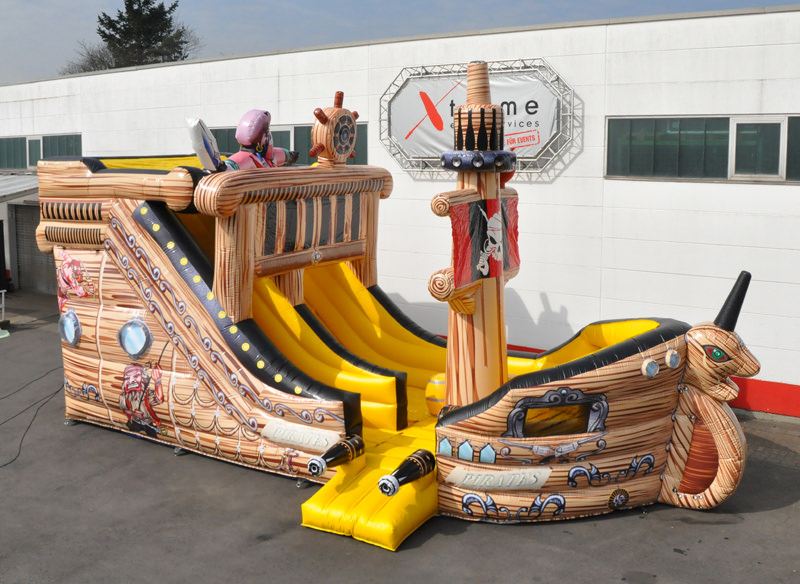 Make a rental inquiry now
Add to memo
Rent a pirate ship jumping castle for young pirates
Xtreme's big pira­te ship reaches your har­bor and your litt­le event visi­tors will turn to mini pira­tes.
A defi­ni­te eye-cat­cher and crowd-pul­ler – you can jump, climb, sli­de and play on the giant air cushion which is digi­tal­ly prin­ted and has an inte­gra­ted sli­ding cour­se. The PIRATE SHIP MAXI is not only a boun­cy cast­le, but a true jump attrac­tion that is spe­cial due to its size and look.
Super­vi­sing per­sons are always requi­red for infla­ta­ble modu­les. You can direct­ly book two of our respon­si­ble Xtre­me employees who ensu­re a smooth ope­ra­ti­on and super­vi­se the child­ren.
The maxi ship is too big for you? Then plea­se ask for our PIRATE SHIP MINI!
Piratenschiff Maxi by Xtreme Events
A jum­ping and sli­ding para­di­se for kids with a uni­que pira­te design.
Preis ohne Service ab: € 450,00 zzgl. MwSt. / € 535,50 inkl. MwSt.
Preis mit Service ab: € 840,00 zzgl. MwSt. / € 999,60 inkl. MwSt.
Required space : 5 x 12,5m, height 7m
Power supply : 2 x 230V / 16A
Supervision : 2 persons
Running time : 6 hours per day
Time for setup/dismantling : approx. 1 hour
Additional information : Three further strong persons are required for setup and dismantling! The pirate ship bouncing castle has to be fixed to the ground with heavy nails or be attached to fixed objects (wind protection)! Please make sure that this is possible on-site.
Make a rental inquiry now