Freedom Climber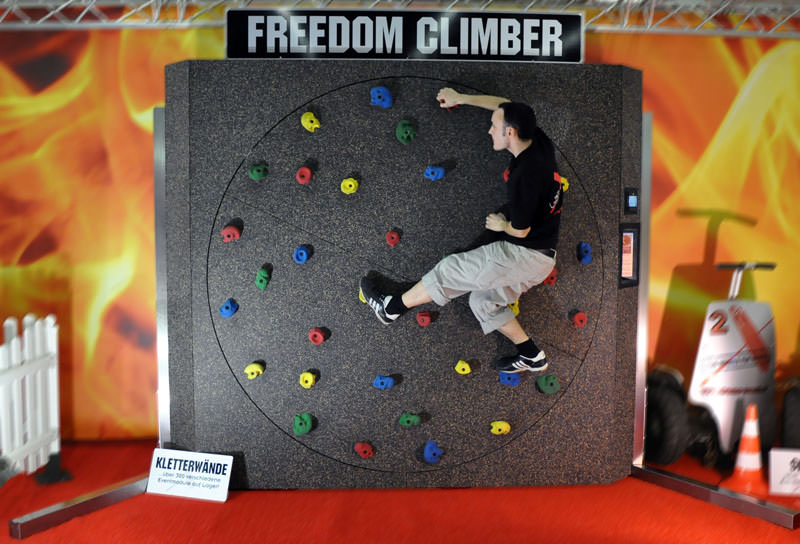 Make a rental inquiry now
Add to memo
Rent mobile, endless climbing wall for events
The mobi­le and rota­ting boul­der wall is a brand-new modu­le on the events mar­ket: infi­ni­te clim­bing at room height!
The disk rota­tes due to the climber's shif­ting of weight. Thus, each par­ti­ci­pant deter­mi­nes his own speed. The moni­tor dis­plays which distan­ce was clim­bed wit­hin the spe­ci­fied time – well sui­ted for com­pe­ti­ti­ons. Secu­ring of the par­ti­ci­pant is not necessa­ry becau­se he sole­ly climbs a few cen­ti­me­ters above the ground. Due to the mini­mal requi­red space and the low height the FREEDOM CLIMBER is a per­fect clim­bing modu­le for indoor events and tra­de fairs. Sui­ta­ble for child­ren and adults as well as begin­ners or pro­fes­sio­nal clim­bers. In the full ser­vice ver­si­on, the clim­bing wall is super­vi­sed by a trai­ned Xtre­me employee.
You want more? Xtre­me cur­r­ent­ly offers twel­ve dif­fe­rent and exclu­si­ve clim­bing modu­les – sim­ply unbea­ta­ble!
Preis ohne Service ab: € 550,00 zzgl. MwSt. / € 654,50 inkl. MwSt.
Preis mit Service ab: € 745,00 zzgl. MwSt. / € 886,55 inkl. MwSt.
Required space : 4,2 x 1,9m, height 2,5m (with sign 2,8m)
Power supply : 230V / 16A
Supervision : 1 person
Running time : 6 hours per day
Time for setup/dismantling : approx. 1 hour
Maximum weight : 95kg
Additional information : Measures for transport 1,12 x 3,1m, height 2,45m. One strong person is required for setup and dismantling, optionally you can book a second Xtreme employee.
Module branding 1: Sign on the module, width 2m to 2,5m x height 0,3m to 0,5m
Make a rental inquiry now