Bike Slotcartrack Maxi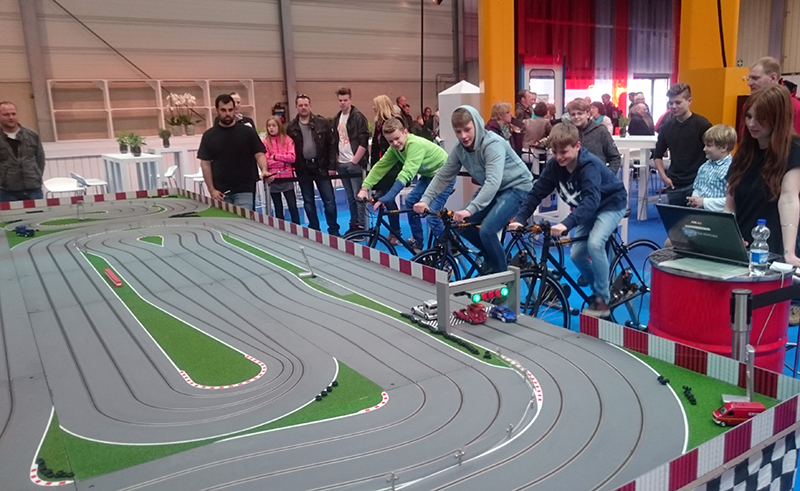 Make a rental inquiry now
Add to memo
Bike-powered Carrera-Racetrack for rent! Now at Xtreme-Events!
Get the full race expe­ri­ence with our three-lane XXL slot­car cour­se with a tre­men­dous track length of 39m – one of the lar­gest mobi­le cour­ses in Ger­ma­ny! The par­ti­ci­pants get on the bikes and con­trol the pace of the cars with more or less effort. To stay on the track, they need sen­si­ti­vi­ty, becau­se spee­ders will crash their mini-slot­car and fly off the track. The peda­ling repla­ces the hand­set con­trols com­ple­te­ly. The finis­hing times of the race are mea­su­red exact­ly and tra­cked on a note­book, so the fas­test dri­vers can be iden­ti­fied and awar­ded.
You can choo­se bet­ween two dif­fe­rent types of bikes: spor­ti­ve sin­gle speed or color­ful trans­port bikes. Optio­nal we can install bikes at your desi­re. Auto­mo­bi­le brands for our cour­se (sca­le 1:32) can be cho­sen indi­vi­dual­ly, almost every brand is pos­si­ble, from old-timer to trucks.
Our slot­car cour­ses with two dif­fe­rent sizes can be equip­ped with a bicy­cle dri­ve. The fol­lo­wing track lengths can be cho­sen: midi = 20 meters and maxi = 39 meters.
Here can you see our sma­ler bike race tracks, the Midi ver­si­on:
Preis mit Service ab: € 1.540,00 zzgl. MwSt. / € 1.832,60 inkl. MwSt.
Required space : 8 x 6m
Power supply : 230V / 16A
Supervision : 2 persons
Running time : 6 hours per day
Time for setup/dismantling : 2,5 hours
Minimum size : 150cm
Additional information : Only indoor or roofed usage
Optionally : Highscore on large screen, decoration package, winner's rostrum, oil barrel bar table, moderation & moderation system
Module branding 1: Digital print on the boards, circumferential and on both sides
Module branding 2 : Table border with your design
Module branding 3 : Selection of automobile brand / special models according to preferences
Make a rental inquiry now