Sky Cage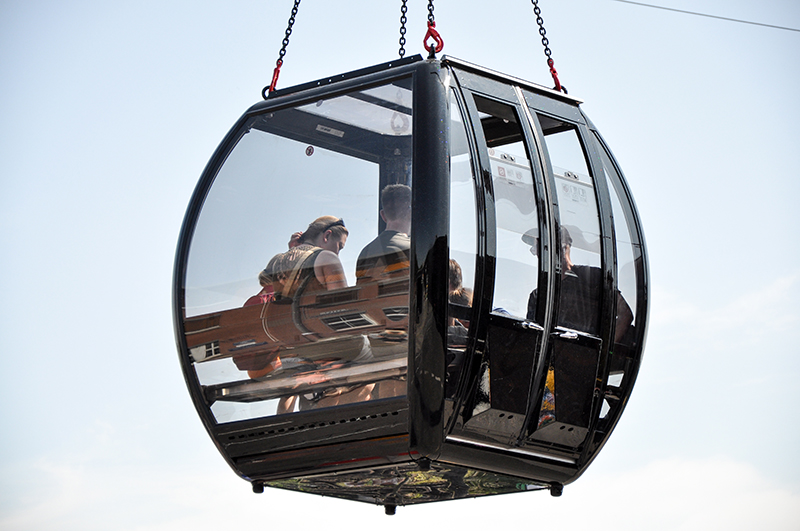 Make a rental inquiry now
Add to memo
The gondula with fully enclosed bulletproof glass
The SKY CAGE is a glass gon­do­la, which offers a uni­que and action-ori­en­ted kind of ver­ti­cal trans­port. Pas­sen­gers can mar­vel at the beau­it­ful land­s­cape, which will be las­ting memo­ries. The gon­du­la can car­ry 8 per­sons and is lifted by a cra­ne to any height. The side walls and the roof are made of glass. A spe­cial thrill is given due to the (break-pro­of) glass floor on which the par­ti­ci­pants stand. The SKY CAGE is almost ful­ly trans­pa­rent and pro­vi­des an edgy and exci­ting fee­ling. Whe­ther 50 meters or hig­her, the gon­du­la offers both an unobst­ruc­ted view for spec­ta­tors on the ground and a beau­ti­ful view over the land­s­cape for pas­sen­gers. The SKY CAGE is TÜV-cer­ti­fied and glo­bal­ly uni­que due to its type of con­struc­tion. Child­ren and adults can par­ti­ci­pa­te ali­ke. Visi­ble from gre­at distan­ces, the SKY CAGE is a per­fect pro­mo­ti­on tool and event high­light. Ide­al for tra­de fairs, city or sta­di­um fes­ti­vals as well as all kinds of out­door events.
With the SKY CAGE gon­do­la, 10 to 15 rides per hour are pos­si­ble. It can car­ry 8 per­sons (7 guests, 1 Xtre­me employee).
The SKY CAGE is an exclu­si­ve pro­duct and a regis­te­red tra­de mark of Xtre­me Events!
Preis mit Service ab: € 2.200,00 zzgl. MwSt. / € 2.618,00 inkl. MwSt.
Required space : 5 x 5m + crane approx. 15 x 10m
Supervision : 2 persons
Running time : 6 hours per day
Time for setup/dismantling : 1,5 hours
Recommended minimum age : 14 years. Participants under the age of 14 have to be accompanied by one parent
TÜV certificate : Der Sky Cage ist vom TÜV geprüft!
Additional information : The crane has to be provided by the organiser, please ask for our crane data sheet. We would be glad to help you with the crane supply and can organise everything with the crane company
Module branding 1: Sticker on the glass, 2x side á max. width: 1,7m x height: 0,4m + 1x back side max. width: 1,5m x height: 0,4m
Module branding 2 : Four rooftop signs at the Sky Cage, 2 pieces, each width: 1,10m x height: 0,2m + 2 pieces, each width: 0,9m x height: 0,2m
Module branding 3 : Large-scale banner at the barriers (the barriers have to be provided by the organiser)
Make a rental inquiry now