Social Media Printer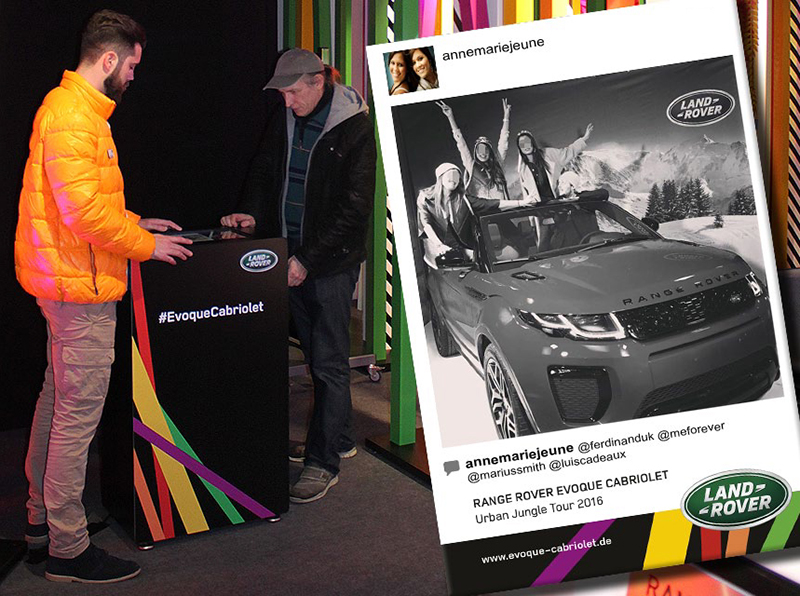 The hashtag printer – for the very individual giveaway
Meanwhile social media is a must-have for companies and their advertisement and we have got the ideal marketing-event tool. The social media printer is small but highly effective and very easy to handle. The visitors take pictures with their own smartphones and tag them with the hashtag which you agreed on before. The picture will automatically be posted on Facebook, Instagram or Twitter and appears on your printer as well. Simultaneously the printer starts printing the picture with your advertising and logo. The individual giveaway is completed in no time. The capacity per hour is approximately 120 print-outs.
The layout of the print, two hashtags and the social media platform will be customized before the event. Our staff will provide an operating without delay. Front and Back of the box are brandable.
Attention! – All material costs for 80 to 120 photo prints per hour are included in the price (other suppliers charge extra costs). And: We print on professional photo printers with high-gloss and waterproof print-outs (other suppliers print on color laser printers with a considerably lower quality).
Technical and organizational facts
Price with service: Price on demand
Required space: 1 x 1m (station 0.8 x 0.5m), height 0.85m
Power supply: 230 V / 16 A
Supervision: 1 person
Running time: 6 hours per day
Additional information: Only indoor or roofed usage. Up to 120 print-outs are possible per hour, all material costs are included in the price
Module branding 1: Logo and claim on the print-outs (without extra charge)
Module branding 2: Front and Back of the box are brandable