Camel Rodeo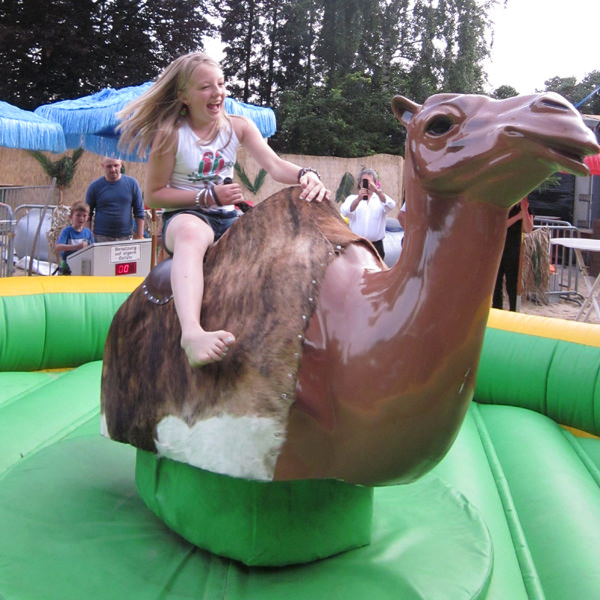 Make a rental inquiry now
Add to memo
Camel riding on the rodeo
With this rodeo you rent a desert animal with lots of endurance!
Not only the riders but also the spec­ta­tors will enjoy this well-shaped camel. Rodeo on a camel, most of the spe­ca­tors will not have seen this befo­re. Ever­y­bo­dy wants to par­ti­ci­pa­te. Our desert ani­mals are as exci­ting as our clas­sic bull riding modu­les for rent – the only ques­ti­on is: how long can you hold tight?
Which rider stays longest on the camel?
Dex­te­ri­ty, the right shift of weight and a litt­le power are requi­red when the riders try to stay on the camel at various dif­fi­cul­ty levels. The spec­ta­tors cheer while the almost ine­vi­ta­ble fall takes place in a soft air cushion.
Our rodeo modu­les have been opti­mi­zed opti­cal­ly and tech­ni­cal­ly right down to the smal­lest detail. We pro­vi­de pro­fes­sio­nal super­vi­si­on, safe equip­ment and beau­ti­ful design.
Preis mit Service ab: € 645,00 zzgl. MwSt. / € 767,55 inkl. MwSt.
Required space : Diameter 7m, height 3m (diameter air cushion 6m + safty distance)
Power supply : 2x 230V / 16A
Module weight :

300

KG

Supervision : 1 person
Running time : 6 hours per day
Time for setup/dismantling : approx. 1 hour
Recommended minimum age : 7 years
Maximum weight : 120kg
Additional information : Only possible by ground-level delivery or a goods elevator. Three strong persons are required for setup and dismantling, optionally you can book a second Xtreme employee
Optionally : Moderation & moderation system, winner's rostrum, highscore on large screen
Module branding 1: Banner (with velcro) at the air cushion
Module branding 2 : Air cushion and upper part of the rodeo can be designed and produced individually in shape and colour
Make a rental inquiry now